SNEAK PEEK: New Wildfox Jeans coming in Spring 2010!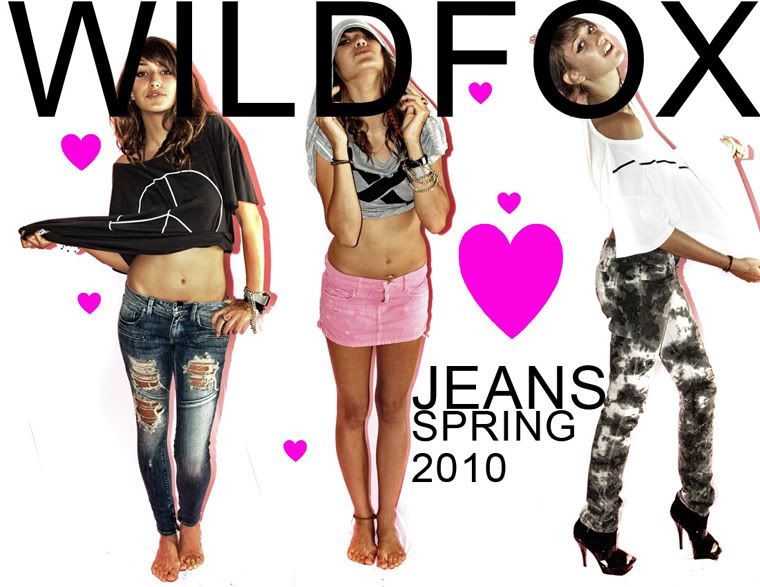 Los Angeles, CA – August 28th, 2009 – Wildfox Couture, the American vintage inspired women's knitwear brand debuts the highly-anticipated Wildfox Jeans division – in conjunction with their Spring 2010 'Young Guns' Collection – at both Summer Project Las Vegas , September 1st-3rd 2009 and Fashion Coterie New York, September 22nd – 24th, 2009.
Wildfox Jeans reflect perfectly the nature of the 'Young Guns' collection; heavily influenced by all-things 80's – ranging from heavy metal bands and Madonna to movies like Thelma & Louise and Pretty in Pink. With seven styles – ranging from short skirts and shorts to both skinny and boyfriend jeans, there is finally something for everyone to match with their favorite Wildfox tees!
The entire jeans group abides by a semi-universal fit of mid to low rise, varying in lengths and cuts – combined with tonal stitching and extremely flattering back pockets, Wildfox Jeans have created something both unique and innovative, while mastering the upmost comfort for all body types.
Sure to be staples in all 'Young Guns' wardrobes will be both the Biker and Skinny jeans. The acid gray and mid-washed Biker jean fits ultra-skinny and comes hand-ripped with zippers on the inner ankle, while the Skinny fits a bit more loose on the body and is less distressed. The Skinny is also available in three colors – tangerine, magenta, and white – with stud patterns on both outer lower hips.
The Beach Bum jean fits like a boyfriend jean, low and relaxed throughout the hips and legs. Lightly distressed throughout and offered in white and gray washes – roll a pair up and go barefoot in the sand. The Punk jean is a black, bi-colored tie-dye jean – perfect to team up with a simple T-shirt and fierce heels for day or night.
Both the Friday Night short and the Party skirt are self-explanatory, short, and thigh-skimming styles offered in all colors and washes. The Tomboy short is a relaxed, shorts version of the Beach Bum jean – with shredded holes at front and worn spots throughout.
Click HERE to shop Wildfox now!