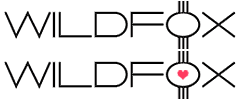 What is Wildfox Couture White Label?
The Wildfox White Label Fall 2012 collection is a nod to iconic figures, film and television, brands, and trends of the nineties era in which designers Emily Faulstich and Kimberley Gordon grew up. The Spice Girls, Britney Spears, Winona Ryder, Alicia Silverstone, Aerosmith, braided hair, spring break, MTV, and Judy Blume novels all played major roles in the lives of Emily and Kim. This collection is a reflection of their choices made while going through High School and on to launching Wildfox together. While mostly diligent, persistent, and responsible, they also occasionally met boys and soaked up the sun in Malibu...perhaps at times when they should have been working.
Growing up, it's not always easy to do the "right" thing. Sometimes the wrong thing, or even the bad thing, can in fact be the best thing! Kimberley Gordon says, "Wildfox is all about having no regrets. We think it's good to have a balance of both bad and good in you. Sometimes it's okay to go skinny-dipping at midnight or kiss a boy you met 10 minutes ago, and sometimes it's good to get up early and pay your bills over a hot cup of mint tea or take a class in something you have been meaning to learn!" Together, the designers have interpreted their combined experiences into a White Label collection of elaborately embroidered rich velour and loose sweater knits in the form of baggy hoodies, capes, maxi skirts, and baseball tees.
White Label Fall 2012 reminds us to have fun regardless of which voice we choose to listen to. It's about fall nights with your best friends at a football game while wearing a warm, nineties-style turtleneck or cheerleading sweater. It's about catching the latest episode of The Real World, tucking into bed with a cup of hot chocolate, or the last night of camp before going back to school. It's the memory of obsessing over Leonardo Di Caprio as Romeo and wishing you were his Capulet. It's about love, angels, the 1990's – it's for the generation of misfits!
This collection is for the angel and devil in all of us. Which voice do you want to hear?