BOYFRIEND WATCHES ARE ALL THE RAGE . . . JUST ASK OPRAH! As Seen in Oprah's "O" And GQ Magazine!

Free Shipping In The U.S.

Italian style and design, Swiss movements, diver's watches water resistent to 330 feet, Boyfriend watches, Swavorski crystals, chronographs, Pirate watches, his watch, her watch, and your watch -- they are all here.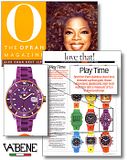 VABENE Italian Acrylic Watches, Boyfriend Watch, Pirate Watch, Chronograph, Acrylic Watches, Superstar, Marinaio: these are the HOTTEST watches on the planet! Va bene! As seen in Oprah's O Magazine, USA Today, In Style, GQ and more. CLICK HERE





AQUASWISS Swiss-made oversized Boyfriend watches are water-resistent to 330 feet (Diver's Watch) and feature stylish rubber straps. Substantial watches perfect for men and women. CLICK HERE
Tonino Lamborghini watches combine high quality Swiss movements with the unmistakeable Italian flair for style, fashion and design. Substantial watches for men and women. CLICK HERE
Send Page To a Friend Click Here