FREE SHIPPING WORLDWIDE!) and have made dozens of trips over the years. One of the problems that many people have when planning a trip is information overload - with all of the web sites and guide books available it is hard to decide where to spend time. Guide books are great to use in deciding what sites to see --- but it would take a lifetime to fully explore Italia, so here we recommend an itenerary designed to give you a wonderful introuction with time to soak in la bella vita Italia!

Arrive in Rome (2-3 days)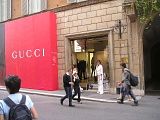 Spend at least 2-3 days in Rome. You can literally spend a month in Rome and not see everything so you might want to add value to your experience by hiring a private guide on your first day.
Favorite Place to Stay - Hotel Positano - If you have 4 star taste, or are on a honeymoon, book elsewhere - but if you want a clean, affordable hotel with some character than this is the place. Convenient location and marble floors throughout.
Favorite Neighborhood to Explore - Trastevere - Trastevere is one of the oldest neighborhoods in Rome. It is quiet and inviting and a great area to walk around and find a place to eat or drink.
Favorite Place to Eat - La Francesca - the menu here has not changed in decades, nor does if have to - the food is great and priced for Romans! Locals order take out on real plates. (Near the Pantheon)
Favorite place to hang out - Piazza Navona. Built on the site of a Roman circus (you can see the race-track shape) and anchored by two classic foiuntains, including Bernini's Rivers of the World, this is the perfect spot for a drink, lunch, at a sidewalk istorante, or just people watching. It is easy to just sit here all day, so check the time on your Vabene Italian acrylic watch -- there is lots to see in Roma!
Naples (1 day)
From Rome get on a train and make your way down to Naples. The train ride is only 2 hours on Eurostar. Naples is crazy -every stereotype of Italian culture that you can think of is exaggerated in Naples... and... as the saying goes, you have to see it once before you die. When you arrive in Naples the key is to get away from the train station and check in as soon a possible - there is nothing nice about the area around the station - get to the water and take a walk. Naples on the water is beautiful.
Favorite Neighborhood to Explore - Royal Naples - Royal Naples was at one time a ghetto. It is also where the mafia originated. Exploring Royal Naples is like stepping back in time 500 years - the streets are alleys and the shops are miniature. Edgy old world charm - you will not see one tourist. If you were to find a Picasso in a thrift store it would be here.
Favorite place to stay - Hotel San Sansevero - It is very hard to find a good deal on a hotel in Naples, but Sansevero Resorts is a decent value. They have 4 hotels in renovated palaces that are all centrally located. Clean rooms, Mediterranean feel. (http://www.albergosansevero.it/indexe.html)
Favorite Place to Eat - Gino Sorbillo - Old family run pizzeria - they have 2 locations on the same block. the service is fast, the pizza is excellent, and the patrons are local. Via Tribunali 32.
Capri (2 days)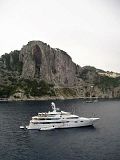 From Naples take a high speed ferry (40 minutes) to Capri and relax for 2 days. Capri has reputation for being very expensive (and it is) but it is also probably the most beautiful spot in southern Italy. If you are careful where you stay and eat it can be affordable. The center of town is overrun by day trippers until around 6p.m. - when everyone heads back to the mainland and then the real Capri comes to life.
Favorite Activity - "Forbidden Path" - walking the road that leads from the Center to Marina Piccola (the only public beach) is my favorite thing to do. I call it the "Forbidden Path" because lately it has been closed for repairs and you have to jump the gate the enter - which by the way is perfectly acceptable and very Italian. Off the Forbidden Path you can find trails that lead down to the water - watch out for peeping toms. When you reach Marina Piccola (about a 30 minute walk) you can relax for the afternoon on the beach and go snorkeling.
Favorite Place to Stay - La Tosca - By far the best value in Capri and probably all of Italy. White washed elegance, 4 star service - two words - book early. Via Birago 5. Tel 081-837-0989.
Favorite Place to Eat - Da Tonino - this family-run restaurant hidden away in a rural section of Capri is worth the journey. Creative take on traditional Capri menu with unmatched outdoor ambiance and expansive wine cellar. The walk home is half the fun! Via Dentecale 12. Tel 081 837 6718 - call for reservations.
Amalfi Coast (3 days)
From Capri take a high speed ferry (40 minutes) to Sorrento. Spend a day in Sorrento and then think about renting a car and exploring the coast for 2 more days before driving to Florence. We have stayed at Hotel Il Saraceno ("The Saracen")which although a bit pricey is an amazing place, perched on a cliff overlooking the Mediterranean. This is the home of very wealthy and very famous people. From the outdoor deck, adjacent to the wonderful restaurant, you can see Sophia Loren's villa on one side and, on the other side, a gorgeous villa that hosted Jackie Kennedy for a month after the funeral of her husband, President John F. Kennedy. The must see places on the Amalfi coast are - Positano (tiny, quaint, beautiful, and ancient) and Sorrento (bursting, alive, energetic, full of happy southern Italians!)

Tuscany (3 days)
From the Amalfi Coast head north in your car past Rome and into Tuscany - the final destination will be Florence. If you don't want to drive you can take the Eurostar but the drive from Rome to Florence is beautiful with many small villages to visit along the way. The main highway from Rome to Florence is the A1. Off the A1 the first town to stop in is Orvieto. Orvieto is very small and quaint and a great place to grab lunch be sure to head iinto town for lunch; don't stop at the service station! Orvieto is just over the hill!) The second town to stop in and visit is Siena - it is larger and offers more to see but is also more crowded with tourists. You can find a place to stay in Siena (or any of the Tuscan hill towns or farms) for the first night and then make your way to Florence, or just drive straight to Florence.
Florence - Florence is beautiful -- just put up with the crowds from America and everywhere else in the world. Remember, people have been coming to Florence (more properly "Firenze" for hundreds of years. Crowds in florence is not a modern phenomenon!) Spending 2 weeks in Italy and not seeing Florence would be a sin. It is also a good home base for exploring Tuscany. And as you know, Floto luggage is handmade in Tuscany! In Florence you can return the rental car if you have one as the next stop - Venice - is best reached by train.
Favorite Place to Stay in Florence - Hermitage - Hermitage Hotel is centrally located right next to the Ponte Vechhio. It is excellent value - 4 star feel for a 2 or 3 star price. With the check in desk on the top floor, it is very unique. It also has an excellent terrace for breakfast and planning activities. Vicolo Marzio 1 Tel. 055-287-216
Favorite Place to Eat - La Goistra - the small family run restaurant is slightly off the beaten path but well worth the effort to find it. Once a hidden secret it has recently become more popular and for good reason - the food is excellent and inexpensive. The wine list is extensive and the service is family.
Venice (2 days)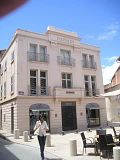 From Florence get on the Eurostar and head to Venice. Venice is an architectural wonder - although like Florence, it has become overrun by tourists - in August you might think you are at Disney World. I recommend spending a day in Venice and then getting on a water bus and visiting the smaller islands in the "suburbs" - Murano and Burano. These islands are very small and quiet and offer a similar feel to Venice - although more colorful. Also con sider side trips to Verona ("home" of Romeo & Juliet) and the ancient town of Este.
Favorite Place to Stay in Venice - Hotel La Fenice et Des Artistes - When in Venice live like an artiste! This hotel is clean, funky, and a good value. If you are high maintenance, the unique artist antique feel will make you forget that the concierge won't respond if you yell at them. (http://www.veniceby.com/fenicedesartistes/)
From Venice fly home and take with you all of the wonderful memories of your first trip to Italy!