Voice of Experience. . . .
To maximize luggage space: roll belts, put socks in shoes, never take more than three pairs of shoes (coordinate outfits around them and don't overpack -- make a list of events and activities, then choose basic styles in neutral colors.
Insider tip: Arrive in style with a Floto genuine Italian calfskin leather duffle, tote, trolley or garment bag --- the finest quality, gorgeous looks, wears like iron and makes an immediate impression!
Be flexible on travel dates to improve your chances for a Business Class upgrade (and be early at the gate -- don't miss that upgrade by 5 minutes!)
Insider tip: This year's hottest! accessory, an extra long scarf, either from Tolani, Love Quotes, or Missoni, takes no room in your Floto luggage yet makes such a fabulous statement you will probably just wear it around your neck (or waist, for that matter.)
On international flights especially, drink plenty of water -- it makes a difference in your energy level to arrive hydrated. Plus it will reduce the time needed to recover from jet-lag. If your flight is delayed or you have a long layover, invest in a day pass (where available) for a lounge such as American Airlines' Admiral's Club for a quiet, comfortable place to wait.
Insider tip: That Floto Italian leather carryon and that Love Quotes or Tolani scarf are going to make you feel right at home in the first class lounge!
Little extra: lip balm, moisturizer with SPF, dental floss, stain-remover stick for on-the-go clothes cleaning, extra zip-top plastic bags, your name and cell phone number inside every piece of luggage (as well as on the leather tag), and a photocopy of your passport stashed somewhere other than your travel wallet.
NEWS! Great Rome City breaks are here!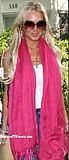 Insider tip: You may not be traveling by private jet but you can still turn heads and attract attention with first class leather luggage and, of course, why not wear what the celbs where when you arrive -- a fabulous extra long scarf, the same one loved by Jessica Alba and Lindsay Lohan or Mary-Kate, Hilary Duff, Paris Hilton, Cameron Diaz, or any other celeb you like!

Click To Send This Page To a Friend