FREE SHIPPING WORLDWIDE
What Makes "Australian" Boots Really Australian?
Why don't we just call these Australian sheepskin boots "Ugg Boots?"
CLICK HERE for the full story!
Who IS Koolaburra? CLICK HERE!
SHOP NOW for Koolaburra sheepskin boots, shoes, and slippers. CLICK HERE
Australians have been making sheepskin footwear for generations -- ample time to build a worldwide reputation for the quality and style of the iconic Australian boot. But what makes the sheepskin boot really "Australian"?
This question isn't as simple as it may seem. Some may answer "because it looks like it's Australian!" Others may say "because it says it's Australian. See, look at the heel!" Many companies are hoping those answers are good enough. Why? Because then they can keep cutting corners, making boots in China, while somehow convincing customers they are "Australian." Maybe just saying so is enough.
We don't think so. The best Australian sheepskin boots in the world are still made by Australians, in Australia, from Australian Merino sheepskin. That's Koolaburra's answer to the question "what makes Australian boots really Australian" — and that's the answer you'll get from just about every Aussie you ask. Koolaburra Australian Sheepskin boots are made entirely in Australia from Australian Merino sheepskin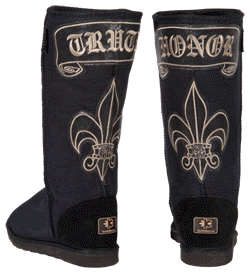 With so much effort put into hiding the actual origin in the sheepskin boot market, it can often be difficult to tell if the boots you're considering are really Australian. There is, however, one very good method: check the tag on the inside or sole of the boot, and look for "Made in Australia." Because of our import and fraud laws, that is the one phrase that imitators cannot copy.
Why is "Made in Australia" so critical for sheepskin boots?
There are many answers to this key question. Perhaps the most important: the sheep. The Australian Merino breed produces skins with the most densely-packed wool and the finest fibers. Double-faced Merino sheepskin is an amazing natural material that insulates and wicks moisture away from your foot, while remaining porous and breathable. Real Australain sheepskin boots keep your feet comfortable from below freezing to well over 25°C (for our American friends, that's 77 degrees Farenheit).

Non-Australian products often use lower grades of "sheepskin lining" or "wool lining" glued to pigskin or cow suede. Unlike true double-faced Merino sheepskin, these manufactured materials are not breathable because of the artificial adhesives used to attach the lining to the outer. Thus, imitations can trap moisture next to your feet, reducing both their comfort and their lifespan.
The next important reason for finding boots actually made in Australia: the craftsmanship. Australian craftsmen are building on a centuries-old tradition, and place their personal and national pride on the line when they create each pair of these iconic Australian boots. This craftsmanship affects every aspect of the boot, from the selection of sheepskins graded by hand for each size, to the beautifully finished overlock stitching, from fine-tuned patterns that provide a superior fit to small but critical details like removable insoles. All Koolaburra, including boots, slippers, clogs, slides, for men, women, and children, are made in Perth, Australia, by Australian craftsmen using only 100% Australian Meriono double-faced sheepskin.
Koolaburra's own master craftsmen have been making boots for 25 years in Perth, Western Australia. Koolaburra uses only the finest double-face Australian Merino sheepskin, and we make every single pair in Australia.
Koolaburra: we're the ones actually made in Australia. Always have been. Always will be.