Here are the actual color swatches for current Love Quotes scarves, including Love Quotes 1000 mm Italian Linen / Viscose with hand-knotted fringe, Love Quotes Boyfriend scarf with eyelash fringe, Italian Linen / Viscose, and Love Quotes Metallic, Italian linen with silver Lurex. Enjoy!
CLICK HERE to shop all Love Quotes
CLICK HERE to shop Love Quotes Metallic
CLICK HERE to shop Love Quotes Boyfriend Scarves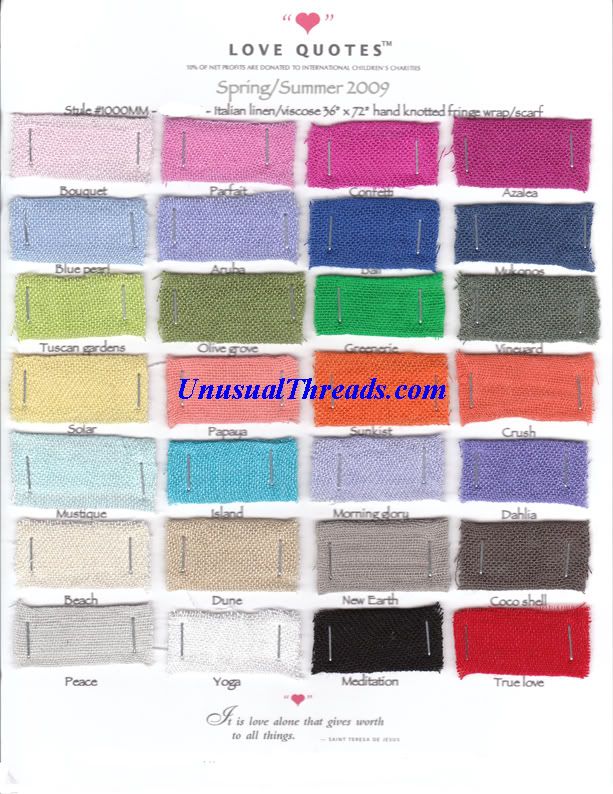 CLICK HERE to shop all Love Quotes
The celebs have it right! The Love Quotes scarf is light as a feather luxurious Italian linen and viscose, hand-knotted, and extra long --- this year's hottest look also happens to be comfy and wonderful year 'round. And we get to feel good while looking good, too, because 10% of Love Quotes' profits are donated to international children's charities.

We know you have seen Lindsay Lohan & Jessica Alba wearing these gorgeous scarves all over from LA to NY, but Lohan & Alba are not the only ones who can't get enough Love Quotes! Hilary Duff, Cameron Diaz, Angelina Jolie, Jennifer Aniston, Reese Witherspoon, Gwyneth Paltrow, Nicky Hilton, and Ashlee Simpson all wear Love Quotes. Each scarf is accompanied by an inspirational quote. ''We can do no great deeds - only small deeds with great love.'' -Mother Theresa. Quotes vary, and each one is meaningful. Dry clean only. All scarves are extra long. Imported. In limited supply worldwide --- you will want more than one! AND NOW THE NEW LOVE QUOTES BOYFRIEND SCARF WITH EYELASH FRINGE, ITALIAN LINEN/VISCOSE, AND THE NEW LOVE QUOTES METALLIC, ITALIAN LINEN/LUREX! IN STOCK AND AMAZING!
Click To Send This Page To a Friend