FOR CELEBRITY FASHION, INCLUDING JESSICA ALBA, LAUREN CONRAD, JULIA ROBERTS, ANGELINA JOLIE AND MORE! TOLANI, LOVE QUOTES, SIR ALISTAIR RAI, LAUREN MOSHI . . .
The Mahina has all the trappings of a classic Louis Vuitton. The comfortable hobo shape and drop on the top of the bag appeals to a practical side. I love the sumptuous size of both the xl and the xxl, and appreciate the meticulous etchings of the LV monogram on the soft, supple leather. The Mahina style does make it different than the over imitated, dreadfully counterfeited, original LV monogram.
Is this better than the monogram canvas? Well, yes and no, leather obviously gives it value but it also jacks up the price to $3750 + in this case. It is available at eluxury, but it is currently sold out, which doesn't surprise me! On our recent buying trip to Australia, the LV boutique had a wait list started!


Click on a photo for a larger view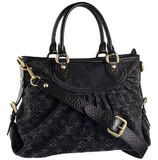 Louis Vuitton has done it again….released yet another bag that we cannot live without, the Denim Neo Cabby! The Denim Neo Cabby also heralds the introduction of a new denim color to replace the discontinued Lichen and Fuschia. A subtle black that has just the right amount of distressing, they look like the perfect pair of worn in jeans. The black will look great with just about any outfit, the black leather handles mean we don't have to worry about getting any vachetta dirty, and the bag comes in two sizes (MM & GM) to please everyone! Like we said, the perfect bag! The Louis Vuitton Neo Cabby is made by Louis Vuitton in the Louis Vuitton factory in San Dimas, California, U.S.A. Neo Cabby also available in blue. $1500 for MM, and $1720 for the GM. Visit www.eluxury.com or call 1-866-VUITTON to get yours today!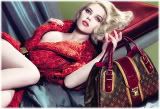 The new Louis Vuitton Monogram Mirage line has done the impossible by turning the boring monogram canvas into a true work of art. Notice that the LV monogram pattern gradually fades the closer it gets to the top of the bag. This is a process in photography know as degrade. There are also a couple new styles of bags being released in this line, most notably the Griet, which is shown in the ad to the right.
Now is the time to break the bad news to you. Like everything else in the Louis Vuitton world, these bags are coming to a store near you with a hefty price tag! OK….they are gorgeous bags, and yes they are limited edition bags…but we are still sticker-shocked by a price of (I'd advise you to sit down) $8,850 for an alligator trimmed canvas (say it with me people) yes



canvas bag! But no fear, the average everyday person can snap up the Speedy 30 for a mere $1,800. Remember, these prices are subject to change (i.e. increase) before release. Sorry Louis Vuitton, I'm out! What do you think? Worth it or not?
Louis Vuitton began manufacturing trunks in Paris in 1854, and the company he started went on to become one of the world's most famous makers of luxury goods, known especially for its designer luggage pattern: a beige-on-chestnut monogram, "LV." Vuitton's high-quality travelling trunks were such a hit that he had to expand his factory within a few years, relocating to Asnieres in 1860. As the years went by the Vuitton line gained international recognition, thanks in part to a bronze medal at the 1867 World's Fair and a gold medal at the 1889 World's Fair, both held in Paris. After Louis died in 1892, his son, Georges, took the company to new heights, developing what is recognized as the first "designer label" on a product. (Widespread copying of Vuitton patterns pushed Georges to design the distinctive "LV" monogram.) Vuitton's luggage company has since become a world leader in luxury consumer goods, with products that include travel books, perfume, distilled spirits and designer clothing. UnusualThreads.com occasionally sells pre-owned Louis Vuitton bags and, as a Personal Shopper, buys directly from Louis Vuitton boutiques for resale. We are not an authorized Louis Vuitton dealer and all Louis Vuitton trademarks are owned by LVMH.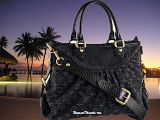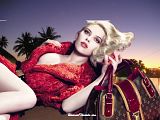 Before Italian explorer Pierre Savorgnan de Brazza embarked on his first African expedition in the late nineteenth century, he asked a trunk-maker named Louis Vuitton to design an extra-long foldout bed to ensure restful nights on his journey. One hundred years later, the luxury-luggage house still customizes gear that makes life on the road less like life on the road.
More distinctive than the oft-knocked-off bags on Canal Street are the specialized pieces to carry all of your goods and chattels, from backgammon sets, architectural tools, stereo equipment, and computers to wardrobes, safes, and even collapsible desks. The only criteria—strictly enforced to honor the original spirit of the 150-year-old company—are that the item is portable and that its raison d'être is transport. "We are in the business of movement," says Patrick-Louis Vuitton, a fifth-generation member of the founding family who oversees all of LV's custom projects. "A special order is a compromise between desires and needs from the client and our aesthetic and technical requirements."
Louis Vuitton fills 450 off-the-menu orders each year from its workshop in Asnières, France, a metal-and-glass space that's like a Santa's workshop for the well-accoutred. Once a client has expressed his vision—as well as the travel conditions and hazards that his piece must endure—the product slowly takes shape through stages of detailed sketches and prototypes. This process can take four or five months (but no more than eight, as a policy), and it reflects LV's mastery of both old-world craftsmanship and technological trends in travelware. And in an era of mass production, Patrick-Louis maintains a personal touch by assigning as few as one worker to each custom item to see it through from the first stitches to the final product. Price is determined by size, materials (e.g., crocodile versus, say, Epi leather), and the overall complexity of the piece: A chess set, for example, made of inlaid lacquered wood, Madagascar-ebony-and-maple pieces, and a russet leather case costs around $21,000.
Patrick-Louis calls his clients "aesthetes of travel" who are on the road 100 to 200 days per year, but he's mum about who's ordered what—and rightfully so, as the custom-order paperwork promises confidentiality. But if you're desperate for inspiration, LV's PR department was willing to provide a few semi-anonymous precedents. There's the European president who ordered a small case with just two compartments—for a watch and a bottle of cognac—which he gifted to an Asian head of state; the CEO who ordered 20 differently lined valet boxes (one for each member of his executive board); the Saudi prince who ordered a travel case to protect his expensive hookah; and the American businessman who ordered a Taïga Ardoise leather bar trunk outfitted with enough compartments to turn the mildest of picnics into an all-day rager—it stows a bottle of champagne, two flutes, a whiskey decanter, four glasses, an ice bucket, and a full cabinet of other bar equipment. Even men of the cloth have exercised their right: In the 1920s a French priest—apparently also something of a paleontologist—requested a special altar trunk so that he could give Mass during an archaeological dig in the desert.
Of course, for every commodity there are those who abuse it, which is probably why Vuitton reserves the right to modify a request if it's too outlandish, showy, or impractical. When a particularly earnest customer recently asked LV to decorate the interior of his sports car in the signature canvas—a novel interpretation of the portability rule, to say the least—he was politely informed that the company would be happy to make him suitcases for the trunk of his car instead.
As for what's next in the annals of custom orders, LV is currently developing a prototype for a trunk that transports your very own personal shower. A wonder Pierre Savorgnan never asked for that.
There is cool, and then there is vaunting West Hollywood slick. Maxfield, the men's and women's boutique on Melrose Avenue, is a little of both. Primitive-looking Roger Herman sculptures loom over the entrance. The building's concrete façade is gray and forbidding—the architectural equivalent, it turns out, of 61-year-old Tommy Perse, Maxfield's owner, who wears his silver hair long and loose, flaunts heavy metal jewelry, paints his nails black, and stocks his store with mostly avant-garde fashion.
This is, in other words, the very last place one would expect to find what is likely the country's largest cache of vintage Hermès. And yet amid the racks of new Yohji Yamamoto and Comme des Garçons is a trove of masculine classics: decades-old forest-green desk sets bearing the simple Hermès Paris logo, patinaed valises and duffels, travel clocks, humidors. They are accoutrements from other eras, made for men who lived well and likely never imagined their possessions would come to be displayed near something called "the naughty case"—which houses a considerably more risqué type of collectible at Maxfield: ghoulish and erotic figurines.
"Hermès has the ability of making an object that's totally useless, something you can't live without," says Max Bernardini, the proprietor of an eponymous vintage luxury-goods emporium in Milan that sells among its brands Hermès, Louis Vuitton, Rolex, and Goyard. (For more on Max, visit bernardinimilano.com.) Extravagance has always been part of Hermès's appeal, but the mature work takes on the added sheen of craftsmanship that feels closer to artistry than utility. "I have a pipe holder from the 1930s, and with everything—from the brass staff to the crocodile base to the stitches—there is such an attention to detail," Bernardini adds. "Once you have something like that on your table, you won't go for anything less."
Like many of those who stalk vintage as a sport and a pastime, Perse is, shall we say, unorthodox. He seems to view questions about his passion as only slightly less bothersome than shoplifters. When asked about the most unusual artifact he has come across in his two decades of hunting Hermès, Perse replies: "A vampire-protection kit." He is kidding, though given his gothic sense of style, this is not immediately apparent.
"Tommy," a helpful intermediary explains, "is not a verbal communicator."
Perse is, however, fairly good at getting his point across—most notably that the store and everything in it belong to him. On this visit, his staff tenses when he steps into the showroom, and customers respond to his stiff manner by submissively flocking to the register.
The list of those who shop at Maxfield includes Hollywood veterans and loyal New York and European clientele. Melanie Griffith—brandishing tattoos—browsed with her son on a recent summer afternoon. According to Perse, father of the T-shirt designer James Perse, there is no typical Hermès customer. Or rather, he declines to elaborate on who one might be, preferring instead to say that he sells to people looking for "something they like, need, and can use."
The New York architect Peter Marino, an occasional Maxfield shopper, buys a very specific kind of old Hermès. "I'm a big fan of Paul Dupré-Lafon, the architect from the thirties, forties, and fifties," Marino explains. "He had many of his designs manufactured by Hermès." Among Marino's favorite Dupré-Lafon and Hermès collaborations: a red leather lamp, a gentleman's valet, and a blotter that currently sits on his desk. "I use everything I buy," he says. "I'm funny that way. If something is so fragile it can't be used, I don't want to own it."
Hermès's corporate office, which is also in the market to buy up heirloom pieces for its own archive and museum, seems as reluctant as Perse to discuss production or where historic objects might be found today. One Hermès designer, who spoke on condition of anonymity, believes the company intentionally shrouds itself in mystery. There is, after all, a technique to protect. "The craftsmen are all trained by the atelier," says the designer. "Hermès was a saddle-maker, so it's a completely different process than constructing a bag at another label. Everything's finished perfectly. Edges are painted and sanded until they are like silk."
As with fine wines and automobiles, a fetishistic quality adds to the pieces' desirability. The company enhances this draw by introducing and retiring motifs—the horse head, the stirrup, the cornucopia. "If things are special when new, and very expensive, they generally become more expensive and collectible with age," Doris Feldman, an antiques dealer at Jefferson West in L.A., explains. "Then factor in that something is produced in a limited quantity and discontinued, like Hermès . . . . It can have a tremendous effect on worth."
There's also value added by a certain corporate policy. "When the leather ripped on my blotter, I sent it back to Hermès," says Marino. "It took a year, but they fixed it."
Try that with a '62 Latour.
Send Page To a Friend