Louis Vuitton practically
invented
luxury luggage, starting as a maker of heirloom trunks for luxury travellors in the 1800s. In fact, the Louis Vuitton logo proudly proclaims "Trunks and Bags."
Louis Vuitton makes a full line of luxurious and expensive luggage, and you will spot it in any First Class airport lounge and at the bell stands of the finest hotels around the world. Usually presented in their signature LV style, the bags range from small carryons to garment bags, 2 and 3 suiters, and the full line of fine luggage styles and sizes. They even make amazing (and expensive!) golf and squash bags. If you can afford to carry Louis Vuitton luggage you can afford the very best --- and you have great style!


In homage to the company's initial product line -- and, some would say, most enduring line -- Louis Vuitton recently announced a new ad campaign featuring their luggage, and feature some surprising celebrities. Most poignant may be the photo of Gorbachev, former leader of the Soviet Union, seated in a limo, somberly attired, with his Louis Vuitton carryon next to him, as he is driven past the now-fallen Berlin Wall. Also featured in the series of ads is Catherine Deneuve and tednnis stars (and husband and wife) Steffi Graf and Andre Agassi. The ad series wasx announced in August by Louis Vuitton owners Moet Hennessy Louis Vuitton SA, known as the LVMH Group.
Click on any photo for a larger view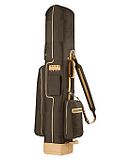 Louis Vuitton Damier Géant Canvas Sac Golf NM
With a sleek, modern look, Louis Vuitton's remarkable Golf Bag holds a full set of clubs, and contains numerous functional pockets for a golfer's necessities. Constructed from the light and practical Damier Géant canvas, this fine bag is a truly exceptional piece for the ultimate in golfing style. $9700.00
Louis Vuitton Greenwich PM
Perfect for overnight stays, the soft yet sturdy Greenwich PM makes quick trips out of the city as comfortable as possible. The unique shape allows the bag to fit comfortably on the commuter rail luggage racks, and the lightness of the bag makes it easy to transport. $1160.00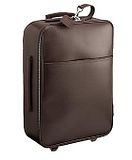 Louis Vuitton Pegase 60 in Taiga Leather
Understated elegance for the modern man. Contemporary, practical, and sturdy, the Pégase suitcase in slate textured Taiga leather complements neutrals as well as black. Lined interior holds a removable garment cover. Natural leather handles and trim. $2680.00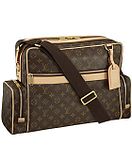 Louis Vuitton Sac Squash in Monogram Canvas
One of four exclusive athletic bags issued from the Spring/Summer Men's Show, which marks the debut of the historical Monogram Canvas collection on a Louis Vuitton runway. Designed specifically for squash, this squared, unisex bag combines a roomy main compartment with a pair of outside pockets, an updated shoulder strap, and new Louis Vuitton signatures. $1890.00




Click To Send This Page To a Friend

louis vuitton,vuitton,vuitton luggage,louis vitton,vuitton handbags,carryall,luggage,mens luggage,trunks,bags,french luggage,carryon,GM,PM,purses,louis,greenwich gm,golf bag,squash bag,vuitton golf,vuitton squash