CLICK HERE for Free Shipping Worldwide on Koolaburra & Kettle Black!
KOOLABURRA SHINES AT THE EMMYS®
Featuring Backstage Interviews with Access Hollywood and Metromix
Santa Barbara, CA – September 22, 2008 -- Koolaburra was a shining star at the Official Emmy® Awards Gift Lounge backstage at the Nokia Theater in Los Angeles, CA where celebrities gravitated to Koolaburra boots backstage at the 60th Annual Emmy® Awards. Lauren Conrad, Vanessa Williams, Kristen Chenoweth and Jennifer Love Hewitt were just a few of the stars who loved the new Fall collection. Key styles featured are this season's must-haves: Fringe boots, Classics, crystallized Tribal Heart from the Kettle Black collection, and the Flash Peace sign featuring Swarovski crystals. Koolaburra found overwhelming support as the only major sheepskin brand manufactured exclusively in Australia – and everyone loved the unique designs and embellishments, designed exclusively in Los Angeles and Santa Barbara, California.
What did the stars say about Koolaburra boots?
Lauren Conrad

Fashionista Lauren Conrad loves the Koolaburra fringe. "Ooh! I love fringe! These are perfect for going to fittings." The Hills star, who also designed the gowns for the Emmy® trophy girls, tried on her pair of boots but said no pictures wearing them with the little red dress -- "They just don't work as an outfit." We forgive you Lauren, and thanks for the photo holding your pair!






Marcia Cross

For Desperate Housewives star Marcia Cross, taking off her heels to try on Koolaburra's Australian-made sheepskin boots was a relief. "My feet hurt so much! Maybe I should wear these home?" The crystallized Tribal Heart looked great with her dress, but we had already run out of her size – and she definitely wanted that style. Marcia's boots are on the way.
Vanessa Williams
The UGLY BETTY star always looks stunning and the 60th Emmy® Awards was no exception. Backstage, we were delighted to have a few minutes of her time. Vanessa was taken with the Tribal Heart design in Swarovski crystals: "These are gorgeous!"
Julia Louise Dreyfuss
Who doesn't love Julia… we sure do. Julia likes to keep things simple: "I'm a plain sort of girl. Do you have anything plain?" We showed her the classic boots, but she also saw our popular fringe. Julia checked with her friend, and quickly joined the list of fringe lovers. We know she'll enjoy her boots.
Hayden Panettiere
HEROES star Hayden Panettiere took a special interest in the Koolaburra collection. "I usually don't wear flashy stuff like Ed Hardy… but the Heart & Soul is pretty rad." She also loved the fringe, and took a pair of those with her; she'll receive the Heart & Soul boots in a couple of days. We can't wait to see her wearing the Heart & Soul boots.
Neil Patrick Harris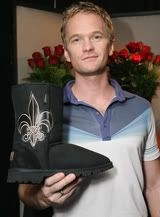 Always well-dressed and in the hottest trends, Neil Patrick Harris knew which pair of Koolaburra boots he wanted. We brought our skull design for men on brown boots, and he loved it - but once he saw one of us wearing the black version, he had to have it in black! They are on their way…
Dana Delaney
DESPERATE HOUSEWIVES newcomer Dana Delaney was shopping for two. Fringe is one of the hottest trends this fall and Dana knew her co-star Nicollette Sheridan would love the fringe boot. "I could see Nicollette in these," said Delaney. As for Dana, the classic and simple chocolate boots were a perfect choice to wear on the way to early-morning yoga classes.
Jennifer Love Hewitt
Jennifer Love Hewitt moved as fast as lightning when she saw boots from across the room: "I see boots!" She was immediately drawn to the Peace Sign in Swarovski crystals. Jennifer joked about a wardrobe change for the event, stating "Now I know what I'm wearing with my dress tomorrow!" Our Swarovski Peace Sign boots and the crystallized phones from Palm were her two favorite items at the show.
Glynn Turman
Congratulations to Glynn Turman for winning an Emmy® award for the HBO series "IN TREATMENT". We didn't get Glynn into the boots yet, but we are pleased that Glynn's wife Jo-An basked in the comfort of our Koolaburra boots. "Perfect! Oh my God, they're so comfy! So soft..." she declared. We agree with you Jo-An!
Kristin Chenoweth

Kristin Chenoweth is all smiles at the Emmys®. "These are sooo cute!" she exclaimed, and was thrilled when we had boots ready for her dainty shoe size 5. "I'm so surprised you have my size. No one has my size!" Kristen left with her favorite pair, the Peace Sign in Swarovski crystals. Thanks Kristin!
Ricky Gervais
Ricky Gervais is a triple threat in Hollywood (Writer, Director and Creator) of the hit show, THE OFFICE. When Ricky stopped in, he said "They're lovely-but my friends would beat me up!" Five minutes later, he was back: "Now I've got myself in trouble. My girlfriend is going to kill me!" Jane was delighted to receive a pair of Koolaburra boots, and selected the fringe. And to Ricky: the men's styles are fantastic, too!
About Koolaburra Koolaburra is a family owned and operated company whose roots in the international footwear industry span over 50 years. Koolaburra's core product is authentic Australian sheepskin boots, made with superior quality and materials in their factory in Perth, Australia. As the exclusive footwear provider for the Kettle Black collection, Koolaburra segues into the luxury category of beautifully crafted casual lifestyle product for men, women and children. For more information, please visit www.UnusualThreads.com or call (760) 238-2729.
CLICK HERE for Free Shipping Worldwide on Koolaburra & Kettle Black!
Click To Send This Page To a Friend